This will be an unusual post as I will talk about a piece of Hardware that is not Free. I will not only tell you everything that has to be know about this Device, but also all the cool hacks and software for Android and Mac .
When it's time to set up a Home theater system most people think of surround sound and a large T.V, but a very important component is How to share and manage your multimedia to your system. There are several Set top boxes that will access your network and play the files on your Home theater system. You can view and compare the devices HERE or you can read my post about Set top boxes HERE.
In my opinion when it's time to decide what's best for you there are 2 options Apple T.V and Boxee Box.
I am not going to debate which one is best but it's the Boxee :->. The Apple TV is very nice and simple but it lacks a lot of functionality that I am going to explain when describing all the Features of The Boxee Box.
First of all what is It?
It is a Multimedia Device that allows you to display and play movies,music, pictures from your Home Computer a usb drive or a SD media card to your HD T.V. You can plug a usb stick with movies on it and it plays them to your T.V. I never came across a movie format that was unsupported by this Box, it will even play a ISO file.
What are The Features? ( Hardware )
Full 1080P
Hdmi output
USB input
SD Media input
Wi-Fi and Lan
What are the Features? ( Software )
- Play Movies
- Open Source Movies Databazaar,Mubi,Openfilms and Tou TV ( Hundreds )
- Play shows
- Play music
- See facebook video feeds
- Play Youtube content
- Box office trailers
- Fully functional Web browser that supports Flash
- Displays a tile of your movies ( Like Netflix ) and let you customize the image if you want. ( see how HERE )
- customs apps
Twitter, Tumbler,Pandora,Flickr, Youtube, Tunein, Netflix ,browser,last.fm,Twit,Cnet,Wired,Accuweather,Grooveshark,Rssfeed,Ted,Lostworlds,TVO,Yupptv,Vimeo,Islambox,Navi-X,Break,CollegeHumor,MLB.tv,NHL,NBA,IfoodTV, and many more. It counted near 200 in my settings and there is always the option to add repositories adding even more See the list Here. Some of these apps like NBA or NHL requires a paid subscription.
Functionality
The software is very well designed, you add the location where your music and movies are stored on your network and it will scan them and download the cover art.
- when browsing your movies it will also give you a description of the movies from IMDB.
- The movie will resume to the last place you stopped.
- you can install subtitles from a click of a button.
- A check mark will appear on the cover art after you've watched the movie.
You can flash your boxee with previous firmwares if you don't like the functionality of the actual one. The one thing i don't like is that boxee will automatically update you to the newest. Here's a way to circumvent it:
download for all the previous firmwares: http://www.aaronwt.net/BoxeeFirmwares/ ( very slow )
1- hold the power button 10 sec. and release it. you then pick factory reset and let it install.
2- turn off the boxee
4- copy the boxee.iso to a fat 32 usb key
5- repeat step 1 but choose update from usb key.
Airplay Compatible Devices and software
Since the firmware update 1.5.x Boxee has implemented airplay functionality. I've tested it with IOS devices and Android and I was pretty impressed.
On IOS devices it will automatically detect the Boxee as a device to send your media to Boxee.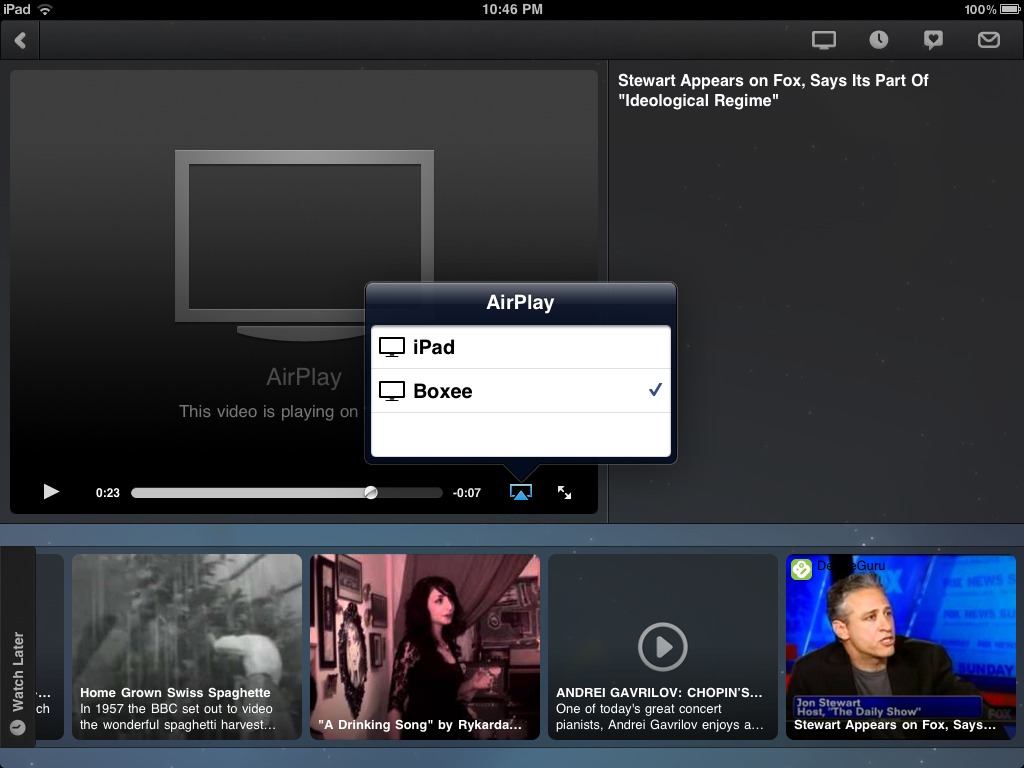 For Android, Here's the list of Compatible apps that will send your media to the device.
My Favorite Eye-c taglist ( which unfortunately does not work with the recent versions of android ), This allows you to send media from Homeserver ( tversity,orb, ) to Boxee. Also it will send youtube and other media.
Hope you like it.